Corporate Translation Services
A professional translation service with offices in Dublin, Ireland & New York offering native speaking language translators available 24 hours/day. We are quick-to-respond & easy-to-reach and have the experience and expertise to meet all your online translation needs.
Whether its Spanish Translation, French Translation, German Translation or Technical Translation of more unusual languages - we are your one-stop-shop for all your document & web site translation needs.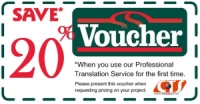 Get a 20% Discount on Your First Translation Project
Business Translation
Corporate Translation Services offers fast and accurate translations of your business documents. Our native speaking professionals in business translation can help you with your translation needs in many different areas including E-Commerce, Import, Export, Joint Ventures, Sales Presentations, Accounting, Banking, Communications, Contracts, Finance, Insurance, Taxation, Marketing, Advertising. Our specialists in business translation hold university degree in business and are most suitable for your translation projects.
We are able to translate your business document into any language. Our business translators can help you with translations from and into any of the following languages: Japanese, Spanish (for Spain or Latin America), Portuguese (for Portugal or Brazil), French (for France or Canada), German (for Germany or Austria), Italian, Afghan, Afrikaans, Albanian, Arabic, Armenian, Azerbaijani, Bosnian, Belorussian, Bulgarian, Chinese (Simplified and Traditional), Croatian, Czech, Dutch, Estonian, Farsi, Georgian, Greek, Haitian Creole, Hebrew, Hungarian, Indonesian, Iranian, Kazakh, Korean, Kurdish, Kyrghiz, Laotian, Latvian, Lithuanian, Malay, Muldovian, Pilipino, Polish, Romanian, Russian, Slovak, Slovenian, Thai, Turkish, Ukrainian, Vietnamese. If you didnít find your language listed above, donít worry. Contact us and we will find a suitable translator who will handle your project.
Our company provides its clients prompt and reliable translation and interpreting services of a variety of business documents including marketing guides, trusted licence document translation, annual report translation, international contracts, translation of web sites, international corporate communications, multimedia translations, import/export documents translation and much more.
To get a price to have your business text professionally translated please click on the "Instant Quote" button below or email us.

Interested? Get your business document translated NOW!
Just click on the "Translate Now!" button and get fast and accurate translation service provided by the best native speaking professionals. Your document will be ready within 2 business days.

[Technical Translation] [Business Translation]